Famous Tourist Places to Visit by Car in Coimbatore
Famous Tourist Places to Visit by Car in Coimbatore
Coimbatore is also known as Kovai which is located on the banks of Noyyal River and surrounded by the Western Ghats. Coimbatore City is popularly known for its automobile spare parts manufacturing, engineering firms, textile industries, health centres, schools, colleges. Coimbatore is an excellent South Indian tourism spot, famously known for its landscape spotted with divine shrines and sanctuaries. Coimbatore City has surrounded by lots and lots of tourist spots, beautiful hill stations with tranquilizing weather and numerous historical places. Choosing this city for weekend holidays, family trips, outing with friends will never disappoint you anytime. Coimbatore has lots of tourist places to discover.
Are you planning to visit Coimbatore? renting a car keeps you more comfortable than wasting your precious time waiting for public transports or taxis while planning for long or short distances to travel. You can choose your trusted car rental company meeting your budget needs, various branded cars and valid & flexible packages.
Nowadays self drive car rental agency has enabled plenty of options such as by booking through online, by phone call and car rental app to keep their customers satisfied. Below are spotted with some of the tourist places in Coimbatore City;
Kovai Kutralam
Kovai Kutralam is an exciting water fall situated at Siruvani mountain range. It is the lovely place to visit in the season between June to November. This is the only place near Coimbatore where you find a pleasant enchanting waterfall. The water fall is around 37 kilometers from Coimbatore city and it is prominently known for its splendour. The water fall is located in the center of the thick forest and because of this reason visitors are not allowed after 5 pm.
Black Thunder
Black Thunder is one of the Amusement park that is Asia's No.1 water based theme park in Coimbatore, Tamil Nadu. It is an amazing, fun, excitement, and enchanting environment to discover with kids, couples and family. Nestled in the foothills of the scenic Nilgiri Hills, this extreme holiday destination offers you a variety of fabulous water rides, dry games, boating, resorts and considerably more. Must try out all these adventurous and excitement games.
Isha Yoga Center
The Isha Yoga Center situated at the foothills of Velliangiri in Coimbatore, is the headquarters of Isha Foundation. It is one of the most scenic parts in South India, surrounded by beautiful hills, forest, exciting waterfalls, and abundant wildlife, the center is ideal for seeking one's inner journey. It is the best and calm place to connect with the beauty of nature. If planning your trip with friends and family, renting a car is the perfect idea to enjoy it.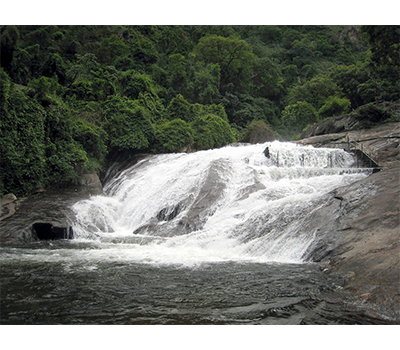 Siruvani Falls & Dam
The Siruvani waterfall is the main source to supply water to Coimbatore city. With an exceptional encompassing perspective, both the dam and waterfall are incredibly wonderful and inhale taking. The dam is interlinked by passages and canals for binding Aliyar, Parambikulam, Nirar, Sholiyar, Thunakadavu, Palar, Thekadi rivers to generate power and water system. It is a wonderful place ad most visited tourism attraction.
VOC Park and Zoo
VOC Park and Zoo is a zoological garden and amusement park located in Coimbatore, Tamil Nadu, India. It is the most visited tourist and picnic place by locals of Coimbatore for recreation purpose. The place comprises zoo houses including birds, mammals and reptiles. It is the most preferred picnic spot for couples and families to spend time with their children's. The park is along with play area for kids and aquarium, not just children's, adults too can have fun.
Vaalparai
Vaalparai is the famous hill station which is located in Coimbatore district. It consists of Anamalai Tiger Reserve is earlier known as Indira Gandhi Wildlife Sanctuary and National Park and previously as Anaimalai Wildlife Sanctuary. It is a protected area which is located in the Anamalai Hills. The hill station has lots of attractive places to discover, foothills starting from monkey falls and more exciting views. It is the best place to visit during a weekend trip with family and friends.
Rent a Self Drive Car!
PRICE STARTS @ JUST RS.999/day
Recent Posts