Best Road Trip to Hill Stations around Chennai with Self Drive Cars
South India is filled with several natural beauties from beaches to ancient temples and hill terrains. Especially, Chennai is the glorious metropolitan city located in Tamil Nadu, south of India. Chennai formerly known as Madras is located on the coromandel coast of the Bay of Bengal. Owing to its automobile industry, Chennai is the capital of the Indian state of Tamil Nadu. Everybody knows about the condition of Chennai's climate, the city is incredibly hot, humid and sticky in all the seasons. This city has numerous places of attraction, not only has beautiful beaches, art and temples, it also has several beautiful hill stations that are near and around.
If you are planning for a weekend trip, then hill stations are the best choice in the summer seasons. Hill stations are the perfect place to relax and get out of business and city life. Now-a-days self driving cars are most widely chosen by the people rather than wasting half the time in public transports and taxis. Rent your favorite car for self drive at an affordable price and explore hill stations with your family, friends or your loved ones.
Car rental is very simple with flexible packages and services at a reasonable cost. You can book your rental cars online through car rental app or by visiting the website. Here we have picked some of the famous hill stations near and around Chennai that you must surely visit for a perfect weekend gateway.
Yelagiri:
Yelagiri or Elagiri is the small hill station which is located in the newly formed Tirupattur district of Tamil Nadu. Yelagiri is charming and wonderful hill station that is not most popular than other hill stations, but it has alluring attractions of its own. Yelagiri hill is surrounded by stunning sight views, rose gardens, orchards, lakes and green valleys. Yelagiri will never disappoint you, since it has captivating location offering the best sightseeing in the hill places and there are lots of attractive activities like paragliding, hiking, trekking, swimming and sailing to explore when you are in this location. Nature Park, Punganoor Lake Park, Jalagamparai Waterfalls, Swami Malai Hills are some of most visited attractions.
Distance from Chennai: 226 kms
Best Season to Visit Yelagiri: November to February
Yercaud:
Yercaud is the beautiful hill station situated in Salem district in Tamil Nadu which presents a cool climate. It is located in the Shevaroys range of hills in the Eastern Ghats and nicknamed as the "Jewel of the South". Yercaud is the perfect location of short holiday or one day trip with Kiliyur Waterfalls, Lady's Seat, Bear Cave, and Water Sports. It has its own alluring attractions with fantastic sights, pacific Yercaud lakes, natural vegetation and a large variety of flora and fauna remains the unmatched beauty of this hill station. Apart from these, coffee and spice plantation and orange grooves are the never-ending attractions, can't be explained in words.
Distance from Chennai: 366 kms
Best Season: October to June
Coorg:
Amidst the beauty and serene of hills, falls & valley, Coorg is known as the "Scotland of India" and it is the perfect weekend gateway to bustle of city life. Coorg also called as Kodagu, it is the most famous and popular hill station of Karnataka and largest producer of coffee in India. Coorg is the only destination which has an abundance of opportunities to make your holidays enjoyable. It also has stunning sightseeing's, amazing attractions and hill trekking which makes you mesmerizing and can't be explained. The popular tourist's attractions in Coorg are Thalakaveri, Nisargadhama, Dubare, Abbey Falls, Madikeri Fort, Iruppu Falls and Nagarahole National Park. Pushpagiri and Brahmagiri in Coorg are ideal for trekking.
Distance from Chennai: 586 kms
Best Season to visit Coorg: October to May
Ooty:
Ooty or Udagamandalam is popularly known as the "Queen of Hills", is a mandatory place to be visited for nature lovers, photographers and tea lovers. It is one of the favourites and popular tourist and honeymoon destinations in Nilgiris district, Tamil Nadu. The chill climate, cool breeze, and scenic beauty in Ooty never fail to mesmerize you. The reason why you must visit Ooty for a weekend trip is the serene ambience, solitude, lush greenery and trekking routes. Ooty has many amazing places of attractions that not to be missed are botanical garden, rose garden and parks, picturesque landscapes and beautiful lakes and dams, reserve forests, tribal huts and museums, historical buildings and Nilgiri mountain railway.
Distance from Chennai: 536 kms
Best Season to visit Ooty: March to June 
Kodaikanal:
Kodaikanal is referred to as "Princess of Hills", which is located in the Dindigul district in the state of Tamil Nadu. Kodaikanal is one of the perfect tourist destinations of South India. Its name in the Tamil language is known as "The Gift of the Forest". It is surrounded by Eucalyptus, Acacia, Cypress and Pear trees with flowery meadows and grasslands. Kodaikanal Lake, Bryant Park, Coaker's Walk, Poombarai Village, Green Valley View, Pine Forest, Pillar Rocks, Silver Cascade, Dolphin's Nose, Berijam Lake are some of the wonderful attractions in Kodaikanal should be visited must. It is the best place to connect with nature and enjoy the fresh air that heals your heart.
Distance from Chennai: 528 kms
Best Season to Visit Kodaikanal: September to May
Valparai:
Valparai is little far away from Chennai which is a famous hill station in Coimbatore district and located in the Anamalai range of Western Ghats of Tamil Nadu. Valparai is known for its dense forests and has access to several protected wildlife reserves. To reach the picturesque town you must travel through most enchanting hill passes through hairpin bends which are surrounded by major tea plantations and forests. Valparai is home to the Chinnakallar Falls and it is also known for its grandiose streams and some very inviting waterfalls.
Distance from Chennai: 573 kms
Best Season to visit Valparai: May to September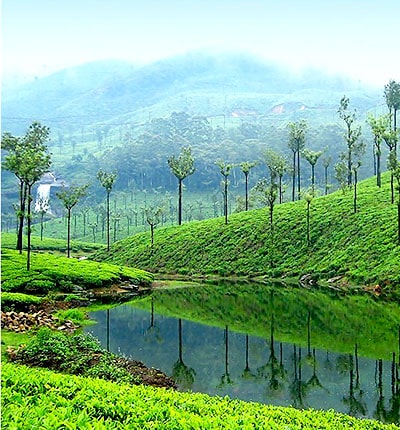 Munnar:
Munnar is the popular hill station of Kerala which is located in the Western Ghats. Munnar is aptly known as "Kashmir of South India" and it is famous for its coffee and tea plantations. It is one of the popular honeymoon destinations with various shades of green, stunning views, beautiful landscapes and awesome climate will make your trip cherished. Tea gardens, Mattupetty Dam, Lakkam Waterfalls, Lockheart Gap, Top Station, Anamudi Peak and Echo Point are few of the various attractions in Munnar. The flora and fauna in Munnar is exactly similar to the Nilgiri hills and thus it is often referred to as the Nilgiri of Kerala.
Distance from Chennai: 577 kms
Best Season to Visit Munnar: September to May