STEPS TO RENT SELF DRIVE CARS IN COIMBATORE
Our Car Rental Tariff in Coimbatore
Looking for the best Coimbatore's car rental company? Onroadz will be the right choice to get all your branded car models at low rent. The price range of Onroadz starts with Rs.150/- to Rs.3000/- based on the number of hours, types of cars. We have all-new model cars i.e., Swift Dzire, Swift, Maruti Ertiga, Maruti Alto, Honda Amaze, Honda City (AT), Mahindra Scorpio, Mahindra Xylo, Toyota Fortuner, Toyota Etios, Toyota Liva, Toyota Innova etc.
LUXURY CARS FOR RENT

@ LOWEST PRICE
Are you in search of the best self drive cars in Coimbatore at low rent? Onroadz is the ultimate choice to hire amazing cars for self-drive in Coimbatore. We deliver at your doorstep to make your travel experience as an adventurous one. We offer all brand new cars with all the facilities to make your journey comfortable. Whenever you plan a trip with your family, friends or any leisure holidays, rent your favourite cars and enjoy riding the maximum kilometres. We do also rent cars for your personal purpose i.e., Wedding, Honeymoon, Birthday Parties, Photoshoots and business purposes such as business meetings, Social and welfare events. We at Onroadz, provide full freedom to choose your self-driving cars in Coimbatore and explore hassle-free journey as per your own choice.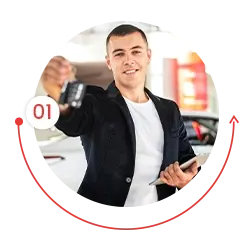 Book Your Car
Book your self driven rental car without any hassle
No Hidden Charge
No hidden or extra charges for your car booking
Affordable Price
Affordable car rental services with wide varieties
Secure Payment
Book now, Ride later facility with secure payment
See What Client's Say About US
"Had a smooth experience. And the cars were in good condition. Folks also were kind to give me instructions for pick up and drop. Price was reasonable as well. Had a trip to Pondi. Strongly recommend."
"Liked the services provided by them. Car was cleaned and well maintained. AC was working fine. Behaviour of the team was good. I got good mileage. Would recommend it to everyone."
"We had taken a Grandi10 diesel for local use in Coimbatore for 2 days. It was a really nice car in good condition. The procedure to get the cars and give it back was simple and straight forward. Planning to use their service again more in the future for sure."
"Loved the service. Will not hesitate to recommend it to family and friends. Car provided wad in amazing condition. Did not have any problem whatsoever. Very helpful guys providing genuine service."
"Very polite staff. Was given Swift Dzire. It was in neat and good condition. Staff was very cooperative to modify our booking from 2 Wheeler to 4 Wheeler at the last moment. Thanks. Appreciate their service. Go to service if looking for self driving car in Coimbatore."
"We booked I20 For 20 days. Brand new car. Low price. Good customer Support. 24/7 customer support really very good. Best car rental in Coimbatore"
"Thanks for quick response and car is very neat and comfortable to drive. Thanks for the person whom I have interacted in your office. He made quick book and delivered the car in 3 min time."
"One of the best car rental services in the area. I once took a hatch back. Top notch service . Apt rent . The car was clean and we got the required distance limit. And the rate for extra kilometres was reasonable"
"Last minute booking done using OnRoadz and it was a pleasant experience. Would definitely recommend to my friends and family. The car was given in a good condition and didn't face any issues during the journey. Good job and keep it up."
"I have taken innova crysta on August 17th and I have used for 3 days the car was very good and comfort .thanks for onroadz Kavin he explained me all the rules before taking the car .thanks for onroadz car rentals"
Best Services
Feel the best Experience With our Rental Deals
Trusted Rental Service
Choose Onroadz and enjoy a seamless experience on the road
Easy & Competitive Price
Experience hassle-free and affordable travel with Onroadz
ABOUT ONROADZ
Onroadz is a well-known car rental company in Coimbatore. Our main motto is to make availability of all types of cars for travellers who want to rent cars. We assure the quality of cars on each booking. We also expand our wings to the Trichy, Madurai, Chennai people. We have attained a new milestone by expanding our branch in Chennai. We provide the best cars for rent in Coimbatore and other cities too.
TYPES OF SERVICES TO RENT A CAR WITH ONROADZ